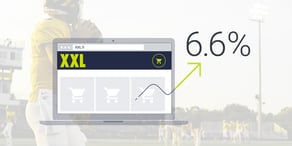 XXL is the largest and fastest growing sports retailer in the Nordic region. Yet, they face the same conversion issues most online retailers have, with 1-3% of all visitors completing a purchase.
At giosg, we have created a machine learning model that optimises the actions retailers need to take to get their online visitors to convert. In this case, it predicted which visitors need to be shown a live chat window to convince them to buy. To get accurate metrics, we ran an a/b-test with them.
Challenge
Use AI to improve conversion rates for an online retailer
Results
Read the full story to learn how we generated a clear, measurable conversion improvement for XXL!