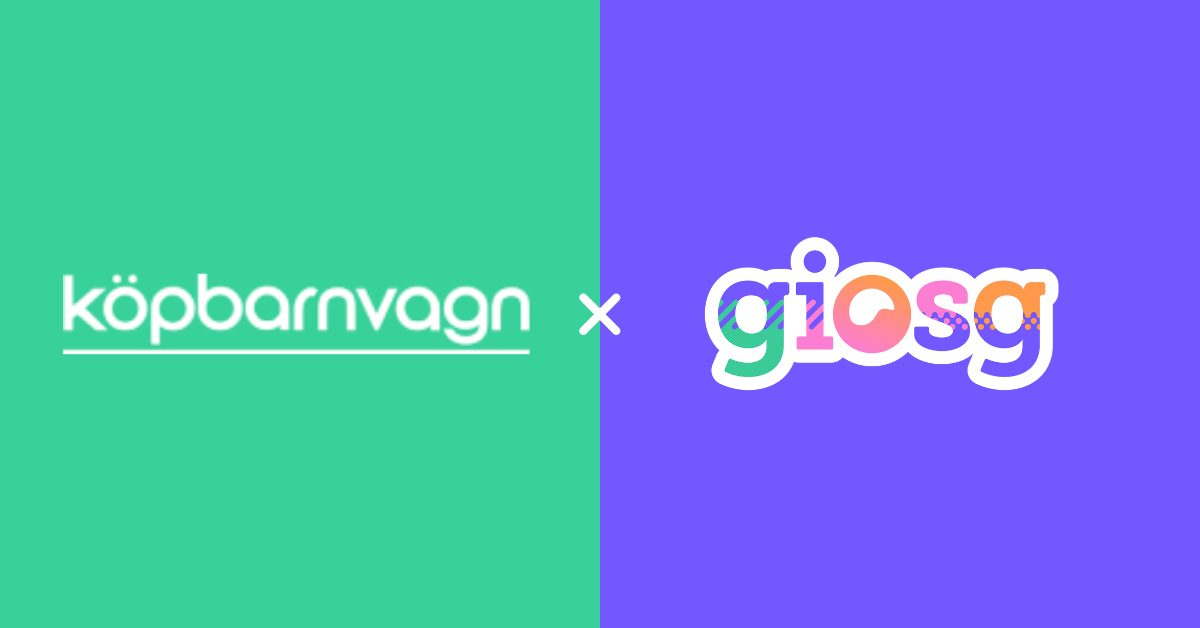 December 15th, 2022. Giosg, the leading tech and software company combining interactive website content such as video elements, live shopping, conversational AI and live chat, can announce today that they have entered into a partnership with Köpbarnvagn, the company that sells strollers and baby products in Sweden and Norway.
Köpbarnvagn has been on the market for almost twenty years and has previously won the award "Gasell of the year" by Dagens industri. The company experienced rapid growth and opened Köpbarnevogn.no in Norway. Köpbarnvagn has invested in a chat with Giosg for personal service, as well as an additional tool for personal video calls, so-called One-to-One. The tool offers personal advice digitally and when they launch the service they will be the first in their industry with the personal offer.

In a world where foreign giants dominate the pram industry, Köpbarnvagn wants to stand out by being a safe, kind and personal alternative for its target group. With Giosg, they now strengthen their competence and offer their customers personalisation in the form of chatbots, live chat and automatic customer responses for faster service.

The goal of the collaboration is to provide approximately one million website visitors per year to chat with experienced staff, who for a decade have helped their customers with expertise in the field. Buying a pram is a big investment where extra help and guidance are of great importance. Köpbarnvagn's ambitions in customer service extend beyond chat, as they have also invested in being able to offer personal video calls for better and more specific advice.
When Köpbarnvagn launches One-to-One video calls, they become the first in the industry with the tool to strengthen their customer journey and get closer to their target group. The focus is for the customer to be able to choose the right pram and car seat with the help of the company's staff.

"With Giosg, we have the opportunity to give our online visitors the same personal treatment as our customers in store. How common is it to chat with a real expert? That is the unique thing about the collaboration. Chatting with a person who can do a specific needs analysis and recommend the right product and solution, and who can share the pros and cons. We also have information about what thousands of previous customers have shared with us, something that we can share further!" comments Elin Boman, E-Commerce manager at Köpbarnvagn.
"It feels great that Köpbarnvagn launched our platform, and to be able to collaborate with an actor that has been on the market for a long time. Köpbarnvagn has knowledgeable staff with broad expertise, and with Giosg they can now offer more personal advice digitally. When they launch video calls, it will mean even more personal contact, a very good way to add an additional element for the ultimate customer journey" says Jonas Willner, Key Account Manager at Giosg.

About Giosg
Giosg is a real-time platform that maximises sales and marketing by creating a physical online experience. We help retailers worldwide provide proactive engagement and personalised interactions that create value. With tools that capture the right visitors at the right time, and with a platform filled with interactions such as; video elements, live shopping, questionnaires, banners, live chat and AI chat, businesses can interact with the most relevant customers 24/7 – bringing their online store to life.

About Köpbarnvagn
Köpbarnvagn is the company with customers all over Sweden and Norway who can get personal advice online as well as in the store in Karlstad. At Köpbarnvagn, parents and children can test drive and test sit strollers, car seats and highchairs before buying. All that so that the customer experience will be as safe and sustainable as possible. Emphasis is placed on ensuring high quality of each product and therefore also offers the possibility of servicing baby carriages and car seats, as well as emergency repairs by our knowledgeable mechanic.

Press contact Giosg
Sofia Correnti
PR & Communications Manager
sofia.correnti@giosg.com
+46708 452 309

Press contact Köpbarnvagn
Elin Boman
E-Commerce Manager
kontor@kopbarnvagn.se