[A summary of a presentation titled 'Digitaalinen Asiakaspalvelu - Case Hobby Hall' held together with SGN Group (incl. Hobby Hall) at Ecommerce + ShopTech event on 14th of March 2018 in Helsinki.]
Customer experience in an online environment is about service quality; how well you can meet your customer's expectations. Offering live chat service on a website has proven to be an effective tactic to attract leads and convert them into customers. Still, as an eCommerce professional, you are also painfully aware of the cost of offering real-time personal support which is why you need to continually look for ways to target your sales and support efforts more efficiently.
Identify and find your best customers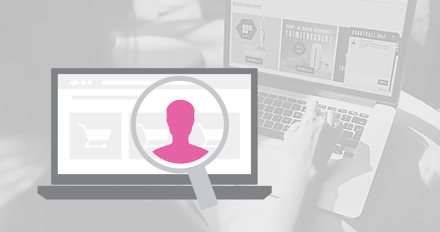 As a rule of thumb, you can divide visitors on your online store into three groups based on their buying probability. The most likely group for increasing sales are the hesitant buyers; people who may need a gentle nudge but who can be guided toward purchasing.
Luckily, we already have several tools available that allow us to utilise behavioural data to trigger actions, like personal advice via live chat, in the right context for the customer.
Targeting can be automated by creating a different type of rules manually. Or, you can let our AI based solution determine the optimal personalised intervention to maximise the chances of conversion. Like, Hobby Hall has done in their online store.
Case Hobby Hall
Hobby Hall is a Finnish online store specialised in the home and leisure area. They started offering live chat service on their site six (6) months ago by implementing live chat as an additional tool for a team of fifteen customer service agents. Besides chat conversations, the same people also take care of phone and email requests. The total value of sales generated by these customer service channels is around 10M€/year.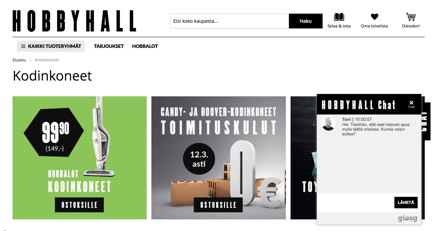 For Hobby Hall live chat is much more than just another customer service channel added to the mix. Instead, they see live chat playing an essential role in developing the overall customer experience. The company also understands the opportunities provided by real-time analytics attached to the live chat platform which is why, going forward, they want to be able to take a more sales-oriented approach to live chat service.
The company has already taken the first steps towards this goal by starting a trial period for AI-based targeting. And, the results have been encouraging. The company estimates that when live chat service has been offered to a visitor at any stage of the purchase journey, the visitor is 4-times more likely to complete the order. By letting the machine decide which visitors to target with automated chat conversation starters Hobby Hall has already seen around 5% growth in the conversion. And, as the learning process is still ongoing, the company looks forward to even better results in the future.
---

Key takeaway: By utilising behavioural data, you can offer the right service, in the right place, at the right time

---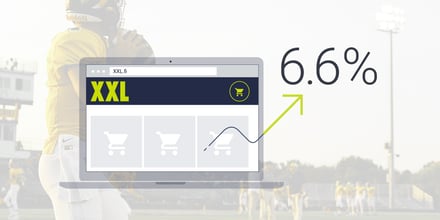 Or, if you want to discuss more about how to get started with AI-based targeting , just come and chat with us!