Disruptive innovations are reshaping the way financial services are structured and consumed. Setting up a 'virtual branch', that allows financial service providers engage with potential customers on another organisation's domain, is a great way to meet evolving customer expectations using rapidly advancing technology. By integrating real-time credit counselling seamlessly with the purchase journey of a partner site the context where the service is provided is significantly better than in any other form of digital service.
Take booking for a holiday, for instance. Many of us have a ready-made list of dream holiday destinations in our mind, but the reality is that a loan can sometimes be what is needed to bring our plans for a honeymoon, birthday celebration or annual vacation to live. Then, what better moment to be offered financial advice than when we are online browsing for travel services and comparing options?
Setting up the service is relatively straightforward, and afterwards, the service provider can engage with the potential loan customer using live chat, automated loan calculators, chatbots, co-browsing or a combination of any of these features, embedded on the partner website.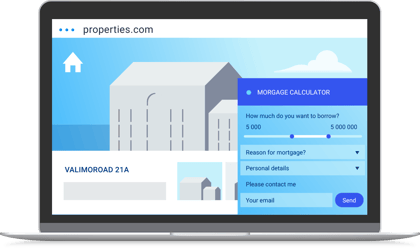 As a similar example from property industry shows, integrating complementary services seamlessly with the purchase journey of the 3rd party site creates benefits for all sides. In this case, the mere possibility to have a real-time service encounter with financial services professional can help the customer overcome any financial barriers to purchasing.
To help financial services companies get started with 'virtual branches', we have compiled a paper including a short introduction to the topic and the tech behind it, as well as, three (3) tried and tested ideas to get you started.
You can download our '3 ideas to get started with virtual branches' paper here!
---
For more information come and chat with us or contact sales(@)giosg.com!