VV-Auto is the biggest reseller of Audi, SEAT and Volkswagen passenger cars and Volkswagen commercial vehicles in Finland. In 2013, the company wanted to find a solution that would allow them to enhance online customer experience and convert website visitors browsing for cars or car maintenance services into sales leads.
Instead of visiting car dealers in person, people today prefer to visit multiple websites when narrowing down options. Recent research shows that buyers usually go through an average of 7 websites before going to the local dealership. This means that car dealers, VV-Auto included, need to find ways to capture contact details before visitors move on to the competitor's site.
To make matters even more complex, not all website visitors are the same. Supporting the needs of a visitor interested in booking a time for car maintenance requires different type of expertise than helping a customer looking to buy a new or used car. Additionally there are also a lot of visitors browsing on a website outside regular office hours. This means that finding a cost-effective staffing solution that enables the positioning of the right people to the right place, is also something that needs to be resolved.
---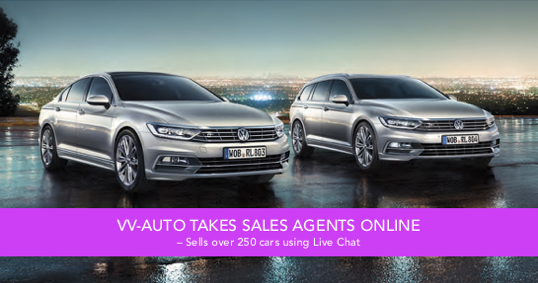 To tackle these challenges, VV-Auto decided to implement Giosg's Live Chat, Lead Call and Teams solutions on their brand specific new cars, used cars and car maintenance web pages. Either a proactive live chat with a prewritten message or a static live chat button has been placed on the web page allowing visitors to interact with a specialist in real-time. Outside office hours call backs are collected using a contact request form (Lead Call).
To optimise the use of internal and external resources live chat is now handled by teams, each responsible for one of the following three categories; new cars, used cars or car maintenance. Still, in case help is needed at any time, chats can be easily directed from one team to another (using Giosg Teams) to make online customer experience as fluent as possible.
The sales agents have noticed that the automated chat is an effective way to interact and engage with customers online and the solution provided has directly affected to over 250 car sales closed in 2016.
---
Read the whole case study to learn how VV-Auto has been able to boost online car sales and maintenance bookings

---