In 2014, Finnair faced the same problem many customer oriented companies face: customer service costs a lot. Customer service is important and engagement with the customer is directly linked to upselling, but the costs associated with traditional customer service channels are sometimes unbearable. Each call takes several minutes out of a service agent's workday and each minute costs.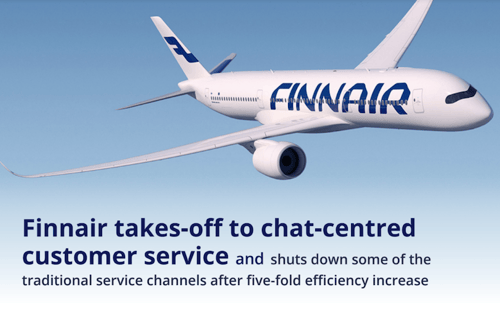 Email, however, is even more miserable than phone: not only do you have to concentrate on one ticket at a time, the ticket is almost never resolved with one reply. The conversation keeps bouncing back and forth with replies and re-replies as the service agent tries to ask find the necessary details or propose solutions. Each message costs – and that is not even the miserable part. The true grim of email is the customer experience. For obvious reasons, companies often prioritise email well below the phone service, resulting in long wait times, sometimes stretching over days for each response. If a ticket takes just three emails to get resolved, the resolution time from customer's perspective can stretch to a week. And on the era of instant messaging, that is not very good customer experience, is it.
To solve the problem, Finnair decided to implement a live chat to its site. The introduction of a live chat transformed the work of the customer service agents from one-at-a-time processing rate to taking care of 3-7 tickets simultaneously. As we all know from our use of WhatsApp and Facebook Messenger, it takes a couple of moments for the customer to respond to service agent's message, which gives time for the agent to nurture other customers while waiting for a response. Yet, unlike with email, the engagement with the customer continues until the ticket is resolved.
#LiveChat has proven to be 3-7 times more effective than #CustomerService by phone or email [Source: @giosgCom ] Click to Tweet
The key discovery leading to the transformation in contact channels was that most of the callers and emailers have been on Finnair's website at some point prior to contacting them to look for information. To respond, Finnair uses Giosg Rules to intervene a visitor with a chat window, before the visitor manages to call or email Finnair. While this decreases contacts in costlier channels, Finnair's clients have embraced the proactive chat initiative as a token of great customer care.
Today, after two years from its decision, Finnair has been able to shift 25% of its 60.000 monthly contacts to chat. The chat has been taken so welcomed by customers, that Finnair has been able to close down some of its email service channels.
---
Read the whole case study to learn how Finnair drives customer behavior to avoid phone for chat service.